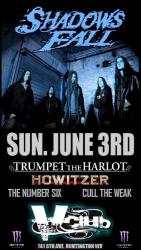 Shadows Fall / Trumpet the Harlot / Howitzer / The Number Six / Cull The Weak
Time: 8:00pm Day: Sunday Doors: 7:00pm Ages: 18+ Ages Price: $16
This Event Has Ended
Shadows Fall
Shadows Fall formed in 1996 in Springfield, Massachusetts and rose up as a prominent member of the bustling Massachusetts metal and hardcore scene that has recently produced bands such as
Killswitch Engage
,
All That Remains
, and
Unearth
. Guitar duo
Jonathan Donais
and
Matt Bachand
got together in '96 and had the original lineup complete within a year. These members were vocalist
Philip Labonte
, now with All…
Trumpet the Harlot

Trumpet the Harlot is a Northern Virginia-based metal band that never ceases to impress with its technicality, relentless speed, and undying energetic live show. A group that concentrates less on the current image associated with metal and more on the songs and the emotions they evoke, this quintet is about one thing: the music. The songs and live show are full of brutally fast riffs, chugging anthems, and an energy that has to be seen to be appreciated.

Howitzer
Since forming in 2000, Howitzer has continued to uphold this objective and create an identity for themselves. The three-piece metal outfit includes: Jeremy Jalowiec (Drums), Beau Diveley (Bass), and Matthew Moody (Guitar), with each member having a distinctive vocal style to contribute, as well as an equal role in the writing process. "The main idea between having three vocalists was that everybody could have a chance to play front man.
Read more about Howitzer…