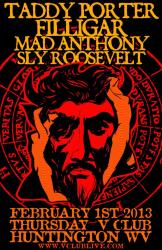 Taddy Porter / Filligar / Mad Anthony / Sly Roosevelt
Time: 10:00pm Day: Friday Doors: 8:00pm Ages: 18+ Ages Price: $10
This Event Has Ended
Taddy Porter

Taddy Porter is Andy Brewer, Doug Jones, Kevin Jones and Joe Selby. Four young men, southern by birth, with a habit of rocking outright. The brothers Jones command a rhythmic Abrahams, devastating all in its path, steady on its brooding course, leaving a wrecked wake where the war was waged. All the while, Brewer and Selby man the cannons hurling shell after screeching shell of audio assault. Brewer howls familiar with all the pains and medals that lie…
Filligar

Filligar is a touring rock quartet hailed as "one of the best young bands in America". The lineup – three Mathias brothers and Casey Gibson – remains unchanged since the band's early days recording and performing as teenagers in Chicago. The American Society of Composers, Authors, and Publishers (ASCAP) has recognized Filligar's catalog of original music as of "prestige value" and the tastemaking Consequence of Sound has called their sound "a breath of fresh air." Their latest release…
Mad Anthony
Phratry Record's, Mad Anthony, is a four piece rock band from Cincinnati, OH. Mad Anthony formed in the summer of 2007 to produce music full of the one thing they lacked... SOUL. Drawing inspiration from other Cincinnati rockers (Caterpillar Tracks, Knife the Symphony, Thistle, etc.) Mad Anthony soon found themselves making music reflecting their circumstance. Ringo wrote about debt, alcoholism, schizophrenic characters, and the degenerate scum he called friends.
Read more about Mad…
Sly Roosevelt
Sly Roosevelt is a five-piece band from Huntington, West Virginia. Often described vaguely as "experimental indie," their music plays with elements from a number of genres: introspective singer-songwriter lyrics sung in an abrasive punk-like style, swelling guitar riffs, complex structures, catchy pop melodies, synthesizers, unconventional percussion, and the occasional theremin-driven spacey breakdown.
Read more about Sly Roosevelt on Last.fm
.
User-contributed text is available under the Creative Commons…