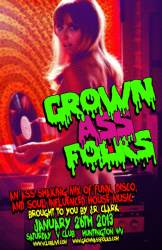 Grown Ass Folks
Time: 10:00pm Day: Saturday Doors: 8:00pm Ages: 18+ Ages
This Event Has Ended
http://grownassfolks.tumblr.com/
http://www.facebook.com/GrownAssFolks

After hibernating over the holidays Grown Ass Folks is back to put the boogie in your soul. If the November edition was any indication of whats to come then we can expect a packed dance floor full of amazing people enjoying life and music to it's fullest. I think a quote from this article (http://www.faithfanzine.com/?p=1590) sums up what I think everyone at Grown Ass Folks should know: "What people have to realise is THEY are the stars , the heroes of club culture not the DJ . Its that magical moment when you look around and everyones smiling and locked into the groove that makes a great House party , where you make life long friends and get a passion for a music that can last decades . Start dancing again , turn your back on the DJ and dance with your crew... the good DJ's will honestly take it as the ultimate compliment ." and I can guarantee this DJ feels that way.